I've been a gamer since 1976 or so. I have found that games are a great way to study history, explore new ideas not found in everyday life, and to exercise the intellect.
I try to focus my gaming efforts in the topics below. These are serious projects and I do play a number of lighter games with my friends.
If we share a gaming interest, and you are in the Lincoln, Nebraska area, please drop me an email (kris at this domain).
Great Battles of History
Age of Enlightenment (17-18th Century) War Games
GMT's Musket & Pike Battle series (17th Century)
Battles from the Age of Reason (18th Century)
This is one of the larger series of games that I play, so it has its own web page. Click here for information on the series.
Panzer & MBT
James M. Day's series of combined arms simulations games.
Next War Series (GMT)
Admiralty Trilogy
Aerospace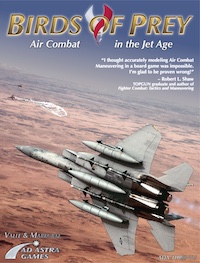 Role Playing Games
Click to see a separate page of RPGs that I like to play and run.
Science-Fiction Games
Android (FFG, 2008)
BattleFleet Mars (SPI, 1977)
Battletech (1985+)
Dune (GF9, 2019)

High Frontier (Sierra Madre Games, 2017)
Icehouse Pyramids (Looney Labs)
Ogre (SJG, 1977)
Twilight Imperium (FFG)
War of the Ring (SPI, 1977)
Star Fleet Universe (ADB)
StarForce 'Alpha Centauri' (SPI)