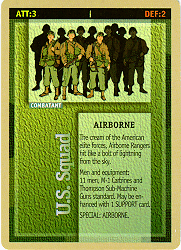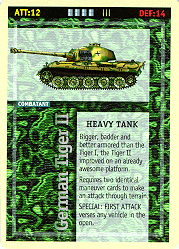 Echelons of Fury
Town by town, bridge by bridge, the war in Europe rages on. Axis or Allies, stack your decks with Infantry, Artillery, Armor, Supply, Tactical Manuevers, and much, much more. YOU choose both force and strategy as you create ECHELONS OF FURY.
Echelons of Fury is the Tactical Command Series card game of WWII Tactical Combat. Each player must have at least one deck of cards, collecting and trading them to increase the power and diversity of their decks.
---
Card Lists
---
I've started to compile an FAQ for Echelons of Fury and its expansions.
---
Rules Variants
Here are some rules variants for team and tournament play.
---
Play Decks
Here are some sample play decks that I use. Comments and your best "killer deck" submissions are welcome.
---
Click here to see a list of Echelons of Fury players and their e-mail addresses. Hopefully, you can find an opponent in your area.
---
Echelons of Fury is published by
Medallion Simulations, 3093 Riviera Heights Dr, Kelseyville, CA 95451

---
Tactical Command; Echelons of Fury© 1995 Medallion Simulations. Images and trademarks shown here are used without permission and should not be viewed as a challenge to said trademarks.